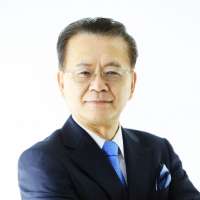 HISAO TAJIRI
Japão
Hisao Tajiri, MD., Ph.D.   
President, WEO (World Endoscopy Organization);
Dr. Tajiri has been serving as the President of World Endoscopy Organization (WEO) since 2022. In addition, he has been active as Vice President of Asian Pacific Society for Digestive Endoscopy (A-PSDE) and President of Japan Endoscopy Database Institute. He had served for 6 years (2013-2019) as President of Japan Gastroenterological Endoscopy Society (JGES). He is now serving as Professor in the Department of Innovative Interventional Endoscopy Research at Jikei University School of Medicine, Tokyo since 2015.
Dr. Tajiri has been awarded many times for his distinguished research achievements and received Crystal Award from ASGE (Honorary Membership Award in 2007, International Service Award in 2017), International Service Award from SIED in 2016 and he was also awarded an ESGE Honorary Membership in 2016.